I have been accused of being "FAT" and happy in my business life and I must say that I take that as a compliment.  My life and my trek to the world of self-employment has not been smooth or a straight line, but instead more of a slough of airplane flights and bumpy mountain passes.  We have had competitors steal our name and my name personally using it on their websites to fool others into clicking on their web pages, had clients use us to get profitable again so they could file chapter 11 bankruptcy on the money they owed us and not pay us, had employees steal clients for their personal gain, and even been sued by a desperate bank because of my client affiliation with a company that had embezzling and less than ethical business dealings.  But even given all of that, I would not change that path in any way.

Companies, Non-Profits & Charities
Over 10 years ago I began self-employment consulting.  While it was not an "actual" company at the time, I was a self-proprietor business that helped other business owners on the side while I worked a "normal" corporate leadership job.  I got to pay self-employment taxes for the first time and this led to several revelations.  First, I was great at helping businesses turn around and make more money, and second, I was meant for bigger things than working for just one company.  That led me to founding my first "official" company called Devoted Business Development.  We focused primarily on consulting businesses that needed change management and help getting back on track.  We learned quickly that there was way more needs that needed to be addresses by our firm and we adapted, added services and expanded.  2 years ago, we re-incorporated to our current entity called Devoted Enterprises.  This was essential because this is my "parent" company that runs and oversees 5 DBA companies.  Devoted Franchises, Devoted Pawn Consulting, Devoted Commercial Real Estate, Devoted Hospitality, and Devoted Celebrities and allows us to run and market each service and industry separately.  We help individuals in those industries according to their industry specific needs, but all centers around the Business Health Check™  and helping business owners be more successful and profitable and setting them up for more long term success.  In 2018, I founded and started Devoted Foundations, a Christian based not for profit organization that focuses on continuing what we started at Devoted Business Development and Devoted Enterprises.  That being helping business owners and business professionals for free or whatever they can afford.  We believe that "Every Business and Person Deserves a Chance to Succeed Regardless of Their Background or Personal or Financial Situation".  Both I personally, and my company donate the first 10% of any income that is received to charities such as our church, Devoted Foundations,  Operation Christmas Child, Union Gospel Mission and more.  My organizations and I personally operate under the following principles.  First, we will always give back more than we take.  We will do free consulting or offer free support and advice because it is the right thing to do.   Second, we will never leave someone in need and will always leave them better off than before we met them.  This includes those who have done us wrong in the past or currently.  Lastly, we will never take kick backs or bribes to refer business.  When we refer a client or a person to another professional you can rest assured that it is only because they are the best fit for what you need. No strings attached.  Period…..  We will always do the right thing in business even it if costs us personally or financially.
Family & Traditions
Ever since my kids were old enough to be in car seats, they spent time on our boats.  They Love the water as much as I do.  It is my happy place and where I go to relax and unwind from the stressful jobs that I do.  Every summer, because we only get 4 or 5 months of nice weather, I try to take Fridays off and make it a special boating day that allows my kids to go fishing, do some cruising, and enjoy swimming off the back of the boat.  It is the one thing that they beg me for and that they hate when I travel because Fridays cannot be "hooky" day.  If you want to buy me a gift someday, set me up with a deep sea fishing excursion.
Because we were born in the Midwest, we have strange traditions such as snow sledding, ice fishing, and other things that cause you to freeze your *ss off!  But I tend to love the simple things in life like car races, football Sunday buffets, monster trucks, and grilling lots of red meat.  We are very well known by family and friends for inviting people over to enjoy the fruits of our hard work.  That usually means grilling lots of Ribeye or porterhouse steaks and finishing the night with lots frosty beverages and laughs at a bonfire.  If you are in Minneapolis in the summertime, stop by for a drink and a steak!  My treat.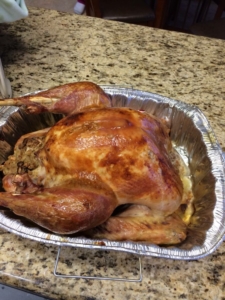 For traditions, we have been known to host the best thanksgiving feast in a 500 mile radios of Minneapolis.  it is not uncommon for more than 50 friends, family and strangers to show up annually at out thanksgiving events.  We invite people who have no where else to go on the holiday and have even had military families join us to show appreciation for their sacrifice.  We love to give back and one of my gifts is entertaining and making people feel welcome.  We celebrate Christmas with a huge Italian meal and make enough pasta to feed an army at that event too.  If you leave our house hungry, it is your own fault.  We are Christians and believe that Jesus Christ is our Savior.  Because of that, we attend church every Sunday, even when we are in Florida, my kids have their own frequent flyer mile accounts and we someday hope to reside in the Tampa area full time very soon.  If you would like to know more about me or my values or what i truly stand for, feel free to call me any time.
Vernon 
651-470-7057
Vernon. Stading@DevotedEnterprises.com